New LASIK® Web Site Features Candidacy Tool.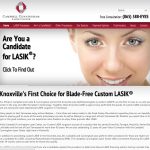 The doctors of the Campbell Cunningham Laser Center vow to make the patient experience better in many different ways. And that includes prospective patients. On April 2, 2014, Drs. Philip Campbell and Les Cunningham announced a new web site (cclceyes.com) featuring information about the LASIK procedure, Blade-Free Intralase, financing application, patient testimonials, staff information and more.
The new site also features Am-I-A-Candidate? This new tool allows prospective patients to conveniently fill out a few answers to questions regarding visual health and history. The doctors and staff at the Campbell Cunningham Laser Center will notify the prospective patient whether or not he/she is a likely candidate for the procedure. [Click here to fill out questionnaire].
"The Am-I-A-Candidate page helps prospective patients simply get past that first step of having LASIK," according to Dr. Philip Campbell, co-founder of Knoxville's first on-site LASIK surgery center. "People lead busy lives and if we can help them learn all about the wonderful benefits of LASIK and even learn if they are a candidate while in the convenience of their home or office, then we've helped the overall patient experience."
The new web site also features testimonial stories from previous LASIK patients at the Knoxville LASIK surgery center [Click Here]. The background stories feature patients who've gone through the entire experience of their first consultation through LASIK and follow-up.
"Today, as much as 83% of Americans visit a web site before they schedule an appointment with a medical facility," explains Dr. Les Cunningham, co-founder of Knoxville-based Campbell Cunningham Laser Center. "If we can provide as much information as possible beforehand, generally, that leads to a much more relaxed patient. There are many aspects to LASIK and although our staff does a tremendous job of educating patients, the new web site allows them the opportunity to read about the procedure, the center and related patient stories. Importantly, this easy-to-find information substantially helps the patient become more educated. We feel this help make a better overall experience for the patient."
If you are interested in Custom LASIK vision correction at the Campbell Cunningham Laser Center, call (865) 588-EYES (3937) today and schedule a free consultation. Or visit the new website at cclceyes.com today.