"Safety is our biggest concern and I no longer wanted the distraction that wearing glasses presented."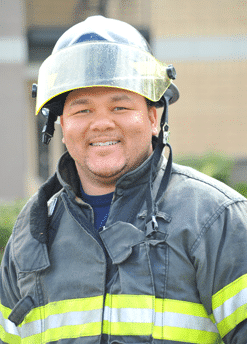 Anthony McAlister
Knoxville, TN
Firefighter Anthony McAlister wore glasses for as long as he can remember. When he tried contact lenses, he could never get comfortable wearing them, so he was stuck with eye glasses.
Years ago, as a new firefighter, it quickly became obvious that he needed a different, more permanent solution to his vision problems. These issues began to present themselves while on the job.  Anthony states, "You can experience all kinds of conditions when you go out on a call. My glasses would fog up if it was cold or fall off if it was raining. I just got tired of dealing with them. It became something I wanted to change not just for my eyesight but because of the dangers we face as firemen, every day."
"Safety is our biggest concern and I no longer wanted the distraction that wearing glasses presented."
Thanks to his fiancé and one of his fellow firefighters, both LASIK surgery patients, Anthony was encouraged to schedule a free consultation at Campbell Cunningham Laser Center. Afterwards, he readily scheduled his pre-op appointment and surgery.
The day of the procedure, he was a little nervous and feared that the LASIK might hurt, but his fears were eliminated by the friendly staff and in less than an hour the surgery was over. Not only could he could tell the difference immediately, the surgery was painless.
"As a firefighter and a father of twin one-year old boys, I don't need the extra hassle of glasses.
It has made my life so much better. I tell everyone who might be a candidate, to get it done and get it done at Campbell Cunningham Laser Center."