See the World More Clearly with the Latest in LASIK® Technology!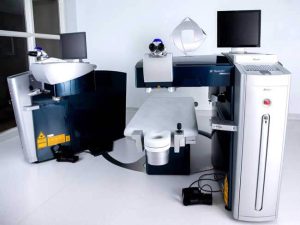 All around the world, laser vision correction continues to change the lives of millions of people once dependent on corrective lenses. The idea of reducing or possibly even eliminating the dependence on glasses or contacts is a very exciting prospect for people in all walks of life. However, deciding on a procedure like LASIK® is something that should be considered very carefully. Your treatment should be among the safest options available and carried out by an experienced team of eye care professionals with a proven record of successful outcomes. In East Tennessee, the experts at Campbell Cunningham Laser Center are considered leaders in LASIK vision correction.
What is LASIK?
LASIK, or Laser-Assisted in Situ Keratomileusis, is a specialized surgical procedure that uses a cool beam of ultraviolet light to reshape the cornea to improve vision. The first step involves using a femtosecond laser to carefully create a small flap in the cornea, which allows access for an excimer laser to gently reshape the cornea. Once that flap is put back into place, it begins to heal immediately. The LASIK technology utilized at Campbell Cunningham Laser Center is 100% blade-free and offers some of the most precise and predictable outcomes to date.
What vision concerns can be addressed with LASIK?
LASIK has shown to be effective at improving nearsightedness (myopia), farsightedness (hyperopia), and astigmatism. Thanks to the recent technological advances, Drs. Kirk Haun, Jake McMillin, Eric Sollenberger, and their experienced team at Campbell Cunningham Laser Center are able to better customize your procedure to fit your individual eye characteristics.
What is the technology used for LASIK?
Campbell Cunningham Laser Center utilizes the trailblazing technology of the WaveLight® Refractive Suite by Alcon for our LASIK patients. This includes the EX500 Excimer Laser,  FS200 Femtosecond Laser, and Topolyzer® VARIO Diagnostic Device. This top-of-the-line suite of devices is considered by many industry leaders to be among the most advanced laser vision correction technology available.
What is the EX500 Excimer Laser?
The EX500 Excimer Laser is the fastest refractive surgery platform available in the country. With this advanced laser system, your LASIK surgeon can better customize your procedure with unprecedented precision. EX500's innovative engineering helps to reduce the potential for undesirable effects associated with LASIK procedures of the past. The EX500 is the only laser to utilize Wavefront Optimized® ablation profiles designed to help maintain the natural shape of the cornea.
What is the FS200 Femtosecond Laser?
Our Femtosecond Laser offers a tailored, bladeless treatment to create custom flaps in the cornea for each patient. The FS200 provides consistent, stable energy delivery that can lead to highly precise performance and more predictable visual outcomes. The FS200 offers multiple personalized treatment options to fit the uniqueness of each patient's eyes with their utmost comfort in mind. This laser also pairs seamlessly with the rest of the WaveLight Refractive Suite to provide computer-controlled precision at every turn.
What is the Topolyzer VARIO?
This innovative device provides precise measurements of the cornea so your surgeon can better tailor your LASIK procedure. The Topolyzer VARIO integrates non-contact technology to produce a series of consistent and reproducible maps of the eye's surface utilizing CONTOURA® Vision Mapping. Diagrams of any irregularities from astigmatism are produced with advanced, integrated mapping technology. Approximately 22,000 data points are captured on the surface of the cornea for ultimate precision, offering better refractive outcomes for most patients.
What results can be achieved with LASIK?
In a conducted survey, 98% of patients said they would choose a refractive procedure with our WaveLight LASIK technology again. In fact, this technology outperformed glasses and contacts in over 30% of eyes. WaveLight offers exceptional visual acuity in many cases, with 89% of patients achieving 20/15 and 100% achieving 20/20.
What's my next step to LASIK surgery in Knoxville with the WaveLight Refractive Suite?
Your first step to better vision is to determine if you are a candidate for LASIK by scheduling a consultation at the Campbell Cunningham Laser Center. Our knowledgeable Patient Coordinators will go over all the details of the procedure and help you determine if it's right for you. If you are indeed a good candidate for LASIK, we will schedule a preoperative exam to help determine the exact treatment plan that will be best for you. Then, it'll be time to schedule your LASIK procedure! Call us today at (865) 588-3937 to get started!