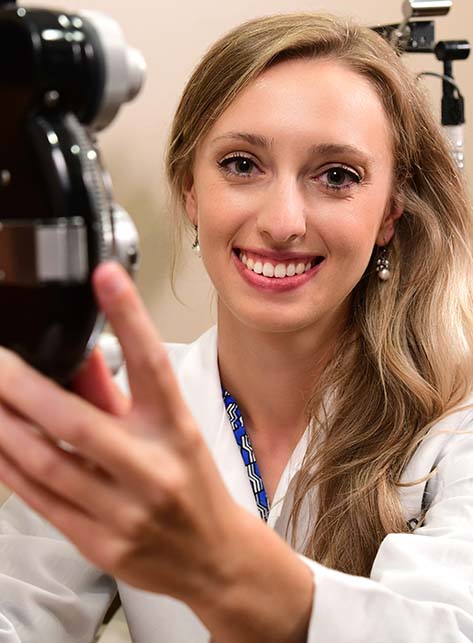 Early on, Optometry wasn't even on Dr. Kibler's radar, however. Growing up in Western New York in a town just outside Rochester, she enjoyed spending time boating and fishing with her "outdoorsy" family on the region's famed Finger Lakes, as well as in the performance arts – playing piano and training in dance. Kibler initially thought she would follow in her father's footsteps by pursing a career in banking. When it came time to choose a curriculum for a career path, she enrolled in college as a double accounting and economics major at Furman University, a private liberal arts college in Greenville, South Carolina.
However, halfway through her undergraduate years, she realized that sitting behind a desk all day working with spreadsheets just wasn't for her. What she really wanted was a profession with more of a purpose that fit her personality. For her, that meant spending her days working with people to make a more personal impact in their lives.
It turned out that her father was still responsible, in part, for inspiring Kibler's shift in careers. When she was 12, her father suffered a retinal detachment, through which the family became intimately involved with the day-to-day post-surgery aftermath of ongoing care and monitoring daily requirements for recovery. A few years later, her brother had orbital surgery after he was hit in the eye with a baseball. Again, her family learned a lot about eye trauma surgery and its effects. Those life-changing experiences with eye care professionals deepened Kibler's interest in forging a career in the specialized medical field.
Though she was still able to finish her accounting degree, Dr. Kibler also added the pre-requisite courses for Optometry school. While earning her Doctor of Optometry at the Pennsylvania College of Optometry at Salus University, Dr. Kibler gained a wide range of primary Optometry care as well as ocular disease experience in a series of externships in eye care centers in Philadelphia, Charleston and Mt. Pleasant, South Carolina and Woodbury Heights, New Jersey, followed by her year-long residency at the V.A. Medical Center in Salisbury, North Carolina.
After gaining all that valuable experience, Dr. Kibler set her sights on joining a practice that housed the latest in eye care technology, not to mention top minds in the field. Drs. Campbell, Cunningham, Taylor & Haun and Campbell Cunningham Laser Center turned out to be exactly what she was looking for.
"I knew I didn't want be part of a practice that just prescribed glasses or contacts and rushed people out the door. I wanted to be part of a team invested in eye health with the latest technology in vision improvement. That was all very important to me. Among other technologies, Campbell Cunningham Laser Center features the very latest in LASIK vision correction. That's such a valuable asset for the people of East Tennessee."
She had heard about the practice from a firsthand patient report – her father-in-law had a very successful LASIK procedure at Campbell Cunningham Laser Center. When he told her about his amazing experience, Dr. Kibler knew it's where she needed to be. She interviewed with the group and finally found her professional home.
Dr. Kibler is thrilled to be part of a team with a distinguished history of pioneering advanced eye care technologies and treatments in the Knoxville area. And she'll tell you LASIK is the icing on the cake.
"To see how elated our LASIK patients are after their vision is restored is just incredible," she said. "It never gets old. I'm so proud to be a part of it."
Dr. Kibler and her husband have fallen in love with East Tennessee. They enjoy hiking in the Great Smoky Mountains, spending time on the many lakes and rivers in the area, shopping at the city's farmer's markets, and UT sports.
To schedule a LASIK consultation at Campbell Cunningham Laser Center, call (865) 588-3937 today.
Education
Ophthalmic Specialties
Board Certifications
Education
Undergraduate
B.A. Accounting
Furman University
Greenville SC
Medical School
Doctor of Optometry
Salus University
Pennsylvania College of Optometry
Elkins Park, PA
Ophthalmic Specialties
Board Certifications