"It Was Like Getting High Definition Television for Your Eyes!"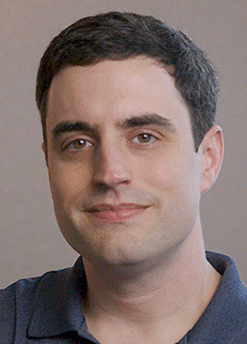 Russell Smith
Knoxville, TN
Local sports-talk radio host, Russell Smith, has been sending his voice over the Knoxville airwaves for over 7 years now. You can hear him on his weekday afternoon show, "The Drive", from 3p – 6p on 1340 AM Fox Sports Radio. He loves talking sports and loves being an advocate for the Knoxville sports community. Russell proudly says,
"I'm very protective of this town and I want all the teams to succeed. We are passionate but we try to make it fun and irreverent, as well."
Working in the sports radio business, Russell goes to a lot of sporting events. If it is being played on the court, on the ice or on the field in Knoxville, he's covering the action. "I used to wear glasses and contacts and in my business, it's hard to keep an eye on the action while I'm fiddling with my glasses, taking them off and on to use binoculars. Whether it was reading rosters or jersey numbers, I had to have some form of corrective eyewear. It was annoying and time to make a change."
Russell, like a lot of patients, was very fearful of the procedure. Would it hurt? Would it take a long time? How long is the recovery process? "All these questions were filling my head but they put my mind at ease right away during my consultation," remembers Russell, "The staff at Campbell Cunningham Laser Center assured me that it would be quick, painless and relatively simple. Sure, enough the day of the procedure, Dr. Cunningham had me quickly relaxed and in about 15 minutes, it was over."
The difference was immediate for Russell. He noticed details more than ever before. He remembers looking at his backyard and noticing the leaves and bark on the trees. Russell was amazed, "It was like getting High Definition television for your eyes." 
"Now when I play tennis and basketball or work out and get on the treadmill, I can do all these things without my glasses. And those rosters and jersey numbers are clearer to me than they have ever been," Russell says.
It's now 10 years later and 2001 UT graduate is still contact and eye-glasses-free, seeing the world with 20/20 vision. "It's one of the best decisions I've ever made and I could not recommend Doctors Philip Campbell and Les Cunningham strongly enough," Russell states.