The Campbell Cunningham Laser Center is part of a deep tradition in caring for eyes in East Tennessee.
Drs. Philip D. Campbell and Leslie B. Cunningham recognized the need for an on-site surgery center dedicated to laser vision correction and founded the Campbell Cunningham Laser Center in 1997. The two surgeons are considered pioneers in refractive surgery and strive to be on the cusp of technology by investigating and adopting the newest and most advanced technologies.
Drs. Campbell and Cunningham were among the earliest Ophthalmologists in the area to perform Photorefractive Keratectomy (PRK) in 1996. Soon, the advanced techniques were developed that lessened the amount of recovery time and enhanced the patient experience.
Laser-Assisted InSitu Keratomileusis or LASIK® was approved for the treatment of nearsightedness in 1997. Drs. Campbell and Cunningham were among the first Ophthalmologists to become certified to perform the procedure. Soon, new technologies were developed that allowed LASIK to also treat farsightedness and astigmatism.
Today, the Campbell Cunningham Laser Center is among the most advanced laser surgical facilities by offering state-of-the-art Custom Wavefront®-Guided LASIK or Custom LASIK. Additionally, all procedures offered by Drs. Phil Campbell and Les Cunningham are performed blade-free with IntraLase Technology. Thus, the center routinely performs All-Laser LASIK .
The Campbell Cunningham Laser Center is located at 1124 Weisgarber Road adjacent to Drs. Campbell, Cunningham, Taylor & Haun. Those interested in Custom Blade-Free LASIK can request a free consultation by calling (865) 588-EYES.is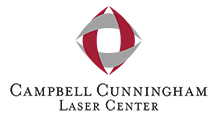 INFORMATION SERVICES
For information on LASIK
Or to schedule a Free Consultation:
(865) 588-3937
Office Hours: 8:00AM to 5:00PM
Monday Through Friday
Email: infolasik@ccteyes.com
After Hours Hotline!
(865) 588-3937
8:00AM to 10:00PM EST Mon-Fri
Noon to 6:00 PM Sat & Sun
Online Candidacy Test:
Click Here!