When he's not focusing on the diagnosis, management, and treatment of conditions and diseases of the cornea through surgical and nonsurgical technology as Cornea Specialist at Drs. Campbell, Cunningham, Taylor & Haun, Dr. Eric Sollenberger is helping his patients see more clearly through the innovative technology of LASIK® vision correction at Campbell Cunningham Laser Center.
A proud East Tennessee native, Sollenberger was born and raised in Knoxville. As the grandson of Dr. J. Ed Campbell, who founded the practice that was to become Drs. Campbell, Cunningham, Taylor & Haun in 1952, Sollenberger's exposure to the field throughout his youth played a fundamental role in his decision to pursue Ophthalmology. Other influences were his uncle, Philip Campbell, M.D., and his mother, Marylin Sollenberger, worked in the practice as a Certified Ophthalmic Technician. For Sollenberger, being able to witness firsthand such monumental improvements in people's lives through intricate procedures that essentially took only a matter of minutes to perform (such as LASIK) left an indelible impact.
But his first true experience with the ophthalmic world came in 7th grade thanks to a required science project. Sollenberger convinced his Uncle Philip to allow him and a classmate to perform and document a LASIK procedure on a pig eye (which are commonly used for training) so they could present the procedure for their project. Through that experience, his eyes were opened to the true wonders of LASIK.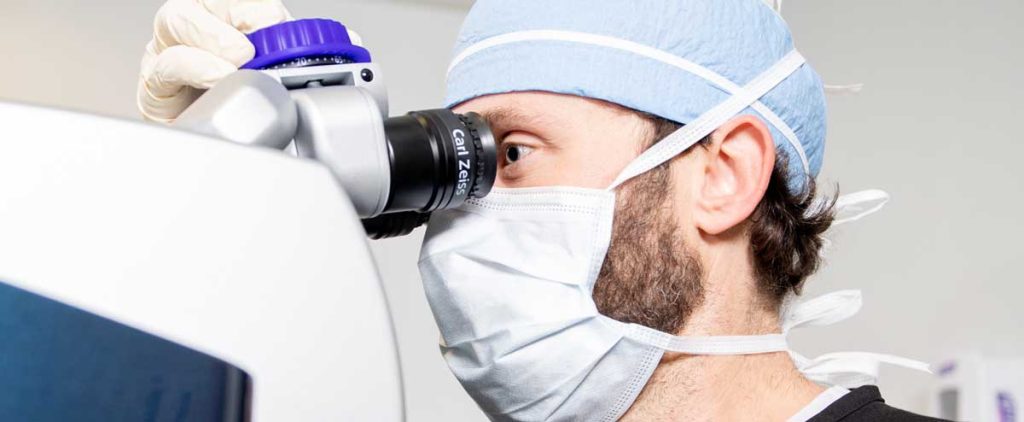 "That was my first real exposure to Ophthalmology," Sollenberger says. "I remember thinking how awesome it was. It was an incredible hands-on experience for a 12-year-old. It's those little things that sort of nudge you through your whole life…my grandfather and uncle telling me it's a great field, then hands-on experiences at a young age. I just knew I wanted to do Ophthalmology."
Sollenberger later worked part-time at the Campbell Cunningham Laser Center during high school, acquiring even more exposure to the eye care industry. After graduating high school, he attended University of Colorado Boulder for his freshman year, then returned home to attend University of Tennessee to start his premed track. Sollenberger successfully completed his premed curriculum and also graduating with degrees in Economics and Supply Chain Management in Knoxville. Then, he traversed the state to attend medical school at the UT Health Science Center in Memphis.
Dr. Sollenberger has essentially come full circle in joining a practice that has been an East Tennessee institution since 1952, something he couldn't be more excited about.
"It's pretty special. I knew going into med school that not only did I want to do Ophthalmology, but I wanted to do it at this practice," he said. "It's not just about continuing a family legacy. That's certainly nice, but I wanted to come back because I knew it was just a great practice. I knew the doctors, the staff, and just knew it was an exceptional crew that I've had the pleasure of knowing for a very long time."
Although his grandfather didn't necessarily 'push' him in pursuing Ophthalmology, Sollenberger will be the first to tell you there were some definite 'nudges' along the way that helped to point him in the right direction.
"When I was a teenager and having more complex conversations with my grandfather, I remember him telling me that job satisfaction is unbelievable," Sollenberger said. "He said every day you make a difference in someone's life, and that just doesn't get old. And now I get to do that for a living."
When Dr. Sollenberger isn't improving the vision of his patients through LASIK or treating various conditions of the eye, the self-proclaimed avid outdoorsman enjoys rock climbing, fly fishing, and hiking. In fact, he and his wife, Anna, are always on the lookout for their next outdoor adventure.
To schedule your LASIK consultation, call (865) 588-3937 and be on your way to seeing life more clearly.
Education
Ophthalmic Specialties
Professional Affiliations
Education
Undergraduate
University of Tennessee – B.S.B.A.
(Cum Laude)
Knoxville, Tennessee
University of Tennessee – B.S.B.A.
(Magna Cum Laude)
Knoxville, Tennessee

Medical School
Doctor of Medicine
University of Tennessee Health Science Center
College of Medicine
Memphis, Tennessee
Alpha Omega Alpha

Ophthalmic Residency
Hamilton Eye Institute
University of Tennessee Health Science Center
Memphis, Tennessee

Fellowship
Cornea and External Disease Fellowship
Department of Ophthalmology and Visual Sciences
Washington University School of Medicine in St. Louis
(Golden Apple Award)
St. Louis, Missouri
Ophthalmic Specialties
Professional Affiliations