Get Ready To Experience Life To The Fullest.
Reducing or eliminating the need for corrective lenses is an exciting prospect for many people. Still, the decision to have your vision surgically corrected is one you'll want to consider carefully. You'll want to be sure that your treatment plan is the safest available and delivered by an experienced team with an outstanding record of positive outcomes. 
Laser-Assisted in SItu Kerato-mileusis, or LASIK®, is the surgical procedure that uses a cool beam of ultraviolet light to gently reshape the cornea to improve vision. iLASIK is a major advancement in that it personalizes the procedure to the individual patient in a way that has never before been possible.
LASIK utilizes an excimer laser which is designed to gently reshape the cornea to correct nearsightedness, farsightedness and astigmatism. These same tasks are accomplished with iLASIK but, thanks to recent technological advances, Dr. Philip Campbell and Dr. Les Cunningham are able to better customize the procedure more exactly to the patient's individual eye characteristics. iLASIK is 100% blade-free, using only lasers instead of a mechanical blade. These advancements make iLASIK the safest and most predictable LASIK yet.
During this advanced stage, Iris Registration technology captures a detailed image of your iris. This image is matched with the image taken during the pre-operative exam. Iris Registration uses digital information from each image to accurately align the laser and the eye. Additionally, Iris Registration compensates for any natural change in the eye's shape as it relaxes and, thus, proper alignment is achieved throughout the procedure.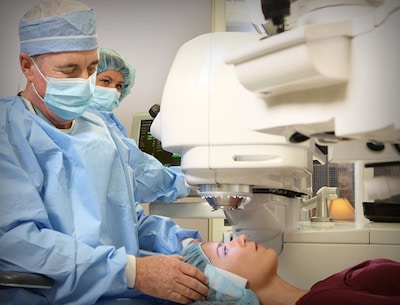 Our iFS™ Advanced Femtosecond Laser uses tiny, rapid pulses of laser light to create a thin flap in the cornea. Each pulse of light passes through the top layers of the cornea and forms a microscopic bubble at a specific depth and position. Thanks to this blade-free technology, a thinner flap is possible, allowing many people with particularly thin corneas to become candidates for the procedure. A flap that is individualized to each patient can result in better postoperative outcomes. In fact, more patients in clinical trials achieved 20/20 or better vision when the flap was created using the iFS Laser.
The first step is to determine if you are a candidate for LASIK. The best way is to schedule a consultation with a Patient Coordinator at the Campbell Cunningham Laser Center. Your Coordinator will tell you more about the procedure, as well as other treatment options.
Next, you will schedule a preoperative exam with Campbell Cunningham Laser Center. This comprehensive eye exam will help determine the best treatment plan for your vision.
Now, it's time for LASIK! Upon completion of your preoperative exam, the staff will schedule your procedure. Most patients resume normal activities within 24 hours and return to work the next day following the procedure.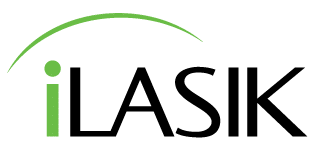 VISX Star S4 IR® Excimer Laser
Your personal 3-D map is transferred from WaveScan® WaveFront™ to the VISX Star S4 IR® Excimer Laser system. Using this advanced laser system, your surgeon can reshape your cornea with remarkable precision. This never-beforeachieved accuracy means optimum results for your vision. To complete the iLASIK procedure, your surgeon folds the corneal flap back into place. The entire operation only takes about ten minutes and most patients experience improved vision quickly.
Myopia
Myopia or "nearsightedness" occurs when light rays are focused in front of the retina instead of directly on the retina.
Treatment: Laser removes tissue from the center of the cornea.
Astigmatism
Regular astigmatism occurs when light rays are focused at more than one point on the retina.
Treatment: Laser is used to make the cornea more spherical. This involves removing tissue in one direction more than in the other.
Hyperopia
Also known as "farsightedness," this condition occurs when light rays are not bent enough to focus on the retina.
Treatment: Laser removes tissue from the periphery of the cornea.
Although the FDA recognizes LASIK® as proven, safe and effective, it is a surgical procedure. Only an eye care professional trained in laser vision correction can determine whether you are a suitable candidate. As with any surgical procedure, there are risks and benefits associated with the treatment. On the day of your preoperative exam, your surgeon will address these and take the time to answer any questions you may have.